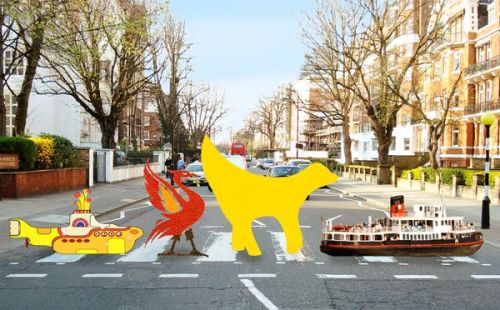 Abbey Road crossing with Fab 4 Liverpool Icons - tent fold Photo Card (L027)
Photo card depicting a Fab 4 Iconic symbols of Liverpool crossing Abbey Road
The Yellow Submarine, Liver Bird, Superlambanana, and Mersey Ferry crossing the zebra in Abbey Road
All these iconic symbols of Liverpool, are seen crossing the world famous zebra crossing on Abbey Road, which was immortalised by The Beatles on the LP cover of the same name. On this photo card, there is definitely the Abbey Road to Liverpool connection with quite a different 'Fab Four' :-

Yellow Submarine, Liver Bird, Superlambanana and Mersey Ferry

This high quality glossy photo card is A6 size, which measures 10.5cm x 15cm (approx. 6"x4") it has a tent fold and could be used for many occasions.
The photo card is left blank for you to add your own message or greeting, and is supplied with a matching envelope - both items are enclosed in protective cellophane.
Tent fold photo card
(L027)